We all know the importance of giving the body its much needed workout. Mixed martial arts can offer the same benefits that sports and other physical activities can provide, with a lot of plus.
For one, it does not only strengthen the body but the emotional well being and mental alertness as well. It is good for a child's heart, body, and mind and everything else in between. Mixed martial arts can nourish their spirits and develop their social skills so they can keep up with the demands of life at any given point.
For another, they could gain a good amount of protection against the sometimes cruel world. Ruthless criminals may be abound but with their learning's in mixed martial arts, they can well protect themselves against anybody who might attempt to cause them harm.
The Earlier the Better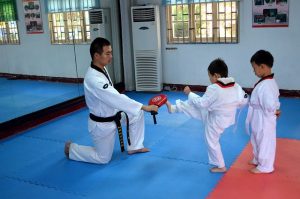 How early you enroll your kid into martial arts lessons, the better. There are a handful of benefits that they could get from it, especially if they grow up knowing the skills of self-defense.
The foremost advantage is, of course, they will grow up healthy. Their bodies will be strengthened incredibly by their learning's from kids martial arts lessons. Their bones and muscles will become fully developed and they will be able to realize their body's full potential.
Another significant advantage is that they will learn their way through people. Dealing with others as well as their own feelings while they are around others will become much easier when they are used to being with different types of kids and adults alike.
Then, there are the skills to understand their strengths and what they can do against what the others can. Lessons often include a good bout of taekwondo sparring, which puts them against an opponent. This helps them realize that they can be better than others but some people may also be better than them. Understanding their potential keeps their head (and heart) in the right place.
A healthy body, well-developed social skills, and sportsmanship are just some of the benefits that your child can take from enlisting in kids taekwondo classes. More than the physical strength that they will be able to obtain along the way, it is the life lessons that are truly beneficial. Unlike the common impression, a lot of things that you need in life cannot be learned in conventional classrooms but through experience. Enlisting your kid to martial art lessons give him that opportunity to 'experience'.
Introduce martial arts to your kids while they are young. Enroll them at http://www.jaimartialarts.com.au/.