Beauty has become a business for some. All the tips and tricks to achieving the best you are highly commercialized. But, beauty that is skin deep does not have to cost you thousands and thousands of dollars. There are simple and all-natural treatments that you can use to care for your body. They are not only inexpensive and effective but are also free from toxic chemicals that are risky for your overall wellness. Take a peek.
For the face: Oatmeal and Honey Facial Scrub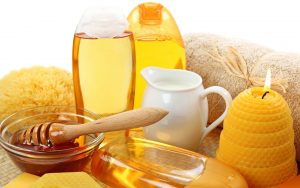 Oatmeal is an exfoliating agent. Honey, on the other hand is anti-bacterial and anti-inflammatory. If you mix them together, you will get an instant scrub that will help beautify and rejuvenate your face. Simply mix the two ingredients to make a paste, apply onto the face in a circular motion, leave on for about 10-15 minutes, then rinse.
For your hair: Banana and egg
To give your crowning glory some extra shine, you may mix mashed banana with one egg. The thick paste must be applied onto damp hair. Leave the mixture on for 30 minutes before rinsing. When you rinse your hair, you must wash it with some shampoo, then conditioner before washing it off with water.
For your nails: Olive oil
Soak your nails in a bowl of olive oil for about five minutes. That will give it some moisture and true beauty.
Orange
Your elbows and knees are certified problem areas that often have rough patches. To soften both areas and lighten them up a bit, rub an orange half on each. They will not only look much better but will smell a lot better, too.
For your black heads: Lemon and honey
To remove nasty black heads, all you need is a lemon wedge with a drop of honey. Rub the lemon onto your face, especially on target problem areas and leave the juice on for about five minutes. Rinse your face with cold water afterwards.
For the hair on your legs: Coconut oil
Replace your store-bought shaving cream with coconut oil. Not only will you have an all-natural resolve but also an effective one, too.
You see, you do not need to break the bank to look beautiful. All you need is some organic sense to see that some of the items that are readily available in your pantry can be used as a suitable replacement for the beauty products you were so used to.
Naturally Beautiful You

,