Business owners regularly need to get more creative in promoting their businesses. Besides the typical recommendation about developing an online presence by using social media and, personal interaction where you come face to face with potential clients calls for an established branding strategy. Freebees are one great way to be recalled and a healthy giveaway such as promotional bottled water is a very effective method of branding.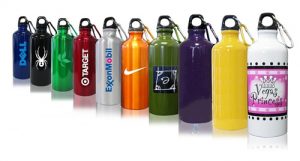 The bottle of water contains your information including your company logo, name, photo, and all important information. Those information are right there for all to appreciate digitally printed in bright colors on a waterproof tag. With the current popularity of drinking clean water in Australia over juices sugary or sodas it's surely worth a try.
Here are some ways you can promote your company by using custom drink bottles.
Lobby Amenity

. A great impression is commonly made within a moments of a client arriving at your office. To make your clients feel welcome it is good to keep your own customized bottle of water ready. Be sure your receptionist provides everyone a new bottle before they are seated.

Charity Runs

. An appropriate way to get your company name at some local charity runs is promotional bottled water with your brand logo and information.  The bottles can be handed out to thirsty participants at several hydration zones or at the end of the run.

Capture your potential clients' interest with a personalized water bottles in your booth and keep their attention a bit longer while they enjoy the drink

. You may put "Grab a Water" signage to draw customers to your booth.

Company Events

. Team building, management meetings, status updates, all call for fresh water to make the participants more comfortable. Bottle of water with your company name and logo sitting on the meeting table will surely provide a good impression to employees and clients.

Community Gatherings

. Get your company known in local community and be recalled after events such as picnics, parades, and fairs are done by giving out promotional bottled water with your company name and logo. A booth stocked with your customized bottles of water will get residents' attention and stimulate brand awareness, particularly if you are a local service provider.
Using promotional water bottle in many ways to advertise and strengthen your brand is such a brilliant concept. With various designs and styles of customized bottle of water to choose from, you can surely find one that reflects your business image and values.
Using Promotional Bottle To Advertise Your Business

,