The end is nigh for Covid-19 as it might soon lose its "pandemic status" this 2022. But our future will forever be altered as hygiene, social distancing, cleaning decontamination and disinfection will remain a huge part of our lives. According to some medical experts in a report from CNBC, Covid-19 may become "endemic" instead of as vaccination rates rise and with the availability of Covid pills soon. They cited similar cases in the past like the Spanish flu and swine flu, both of which retreated in the background of people's lives.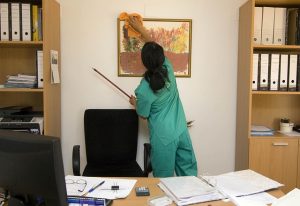 But this does not mean that we become less careful especially when it comes to workplace hygiene. Australians will likely return to offices soon or will adopt a hybrid work setup. And while Covid is poised to become a seasonal thing, it is important to make office spaces more virus-resistant no matter the season. In 2020, Sydney Morning Herald published an article citing that many young Australians aged 18 to 25 are not washing their hands after using the bathroom and before handling food. This can cause some problems in the workplace knowing that 80 percent of infections are spread through hand contact. Below are things to consider as you prepare for your office's health and safety for the "next to normal."
Schedule a major disinfection day
Before implementing "return-to-office" policies, it is crucial to cease any office activity. If possible, shut down operations for a few days to help prepare your space for cleaning decontamination and disinfection. Make sure to hire reputable names in the cleaning industry so as not to compromise the quality of cleanliness.
Focus on deep and thorough cleaning
General cleaning is usually done through janitorial services or at the very least, a cleaning lady you can hire for the day. But preparing office space for the "next to normal" will require something more thorough. You may ask, "But are there deep clean cleaners near me?" The answer is a resounding yes! In Sydney, it is not difficult to find one online. A quick Google search will lead you to some service providers in your area.
Target commonly used spaces and surfaces
If you are a building or commercial space owner, don't skip on the spaces that have high foot traffic or "choke points". These are the elevators, door entrances, exits, etc… Many of these are made with steel or complex surfaces. Again, get professional cleaning decontamination and disinfection team that can handle these cases. This will ensure that your establishment will be ready once the world opens up again!
Why Workplace Hygiene may Require your Attention Soon?

,